Art and entertainment have the ability to inspire, inform, and ignite, or they can miseducate and diminish. At its best, art is a window into the complexity of the human experience. The artworks below have transcended the art world and reverberated in the sphere of popular opinion, shifting public perception of war and violence.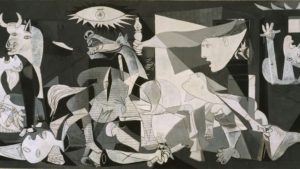 Pablo Picasso, Guernica
The title Guernica shares the name of the city bombarded by Nazi planes during the Spanish Civil War. Guernica has become an anti-war symbol and a reminder of the tragedies of war and a replica of it hangs in the United Nations Headquarters in New York City. The painting is particularly interesting because it conveys the grotesque nature of war without using the color red to depict blood.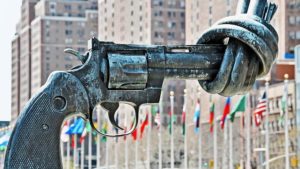 Non-Violence (also known as The Knotted Gun)
Non-Violence was originally created as a memorial tribute to the legendary singer and songwriter John Lennon after he was shot and killed outside his home. It was then placed outside the United Nations headquarters in New York as a symbol of peace. Kofi Annan reflected about the piece:
The sculpture Non-Violence has not only endowed the United Nations with a cherished work of art; it has enriched the consciousness of humanity with a powerful symbol that encapsulates, in a few simple curves, the greatest prayer of man; that which asks not for victory, but for peace.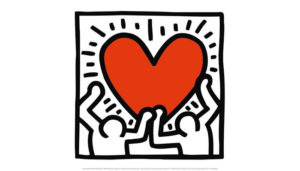 Keith Haring, Untitled
One of his early works, this radiant heart-love motif would show up in many paintings and drawings throughout the rest of his career. Haring's art comments on racism, AIDS, gay rights, and other political subjects. This image is the epitome of Haring's faith in humanity and the power of love.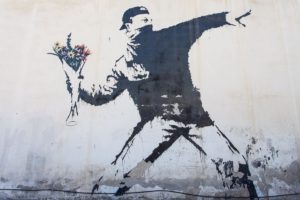 Banksy, Flower Bomber
A master of satire and double-meaning, Banksy's work is the most recognizable street art in the world. While at first glance the Flower Bomber looks like a rioter about to throw an object meant to hurt or harm, the piece substitutes flowers for a weapon and reminds the viewer of peace in a place we wouldn't expect to find it.